Mission trips:
Our youth group takes life-changing, Christ-centered mission trips that enable the youth to experience spiritual and personal growth. The mission trips are designed for youth to serve others, grow in faith, connect with each other and show Christ's love to a hurting world.
Examples of trips taken are: Hurricane Recovery in Beaumont, TX, New Orleans, LA and home repair trips to Dallas, TX with Connect to the Kingdom. Trips are primarily taken during Winter, Spring and Summer breaks.
Summer Youth Week (Service & Fun):
Youth week is a time for youth to re-connect at the end of the summer before going back to school. Each day there is an activity that brings youth closer to each other, closer to their faith and is filled with laughter. Events are planned that balance fun, fellowship and service. Examples of activities are: movie marathons, local service projects (house repair, yard work, church clean-up), Hurricane Harbor, lock-ins, cooking nights, etc. Youth are always encouraged to invite a friend to all activities and seek out ways to include others and be inclusive to all we meet.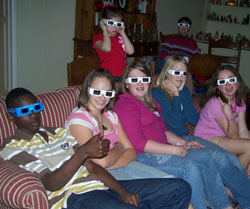 Sunrise Easter Service & Breakfast:
An annual youth event is the Easter Sunrise service and breakfast. The youth develop, plan and lead a service that is both meaningful and faith filled. They share the story of Jesus's resurrection and often share personal stories of how they find Christ in their every day lives. Members of the church and community gather together to worship with the youth and then enjoy a breakfast prepared and served by the youth (with some additional help).
Service projects:
Throughout the year our youth group plan many local service projects. Their willingness to serve Him and others is evident in the ways they choose to come together to do His work. Their motto of "Nerve to Serve" says a lot about who they are as individuals and as a group. They intentionally search out needs in the community and then seek out ways to fill those needs.
Projects done include: home repair for the elderly, yard work, clean-up around church and the community, working with children, yam gleaning and many more. The youth know that when working together to make a difference in our community we are also making a difference in ourselves and in a hurting world.