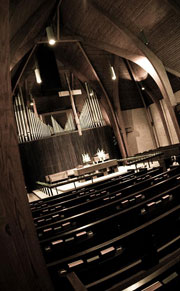 We offer three worship opportunities every week, each providing a unique worship experience. You're invited to find the service that is right for you!
Sunday mornings:
Early Service (8:45am in the Chapel):
This service is an informal worship gathering which features a hymn sing with selections from the Cokesbury Hymnal. Enjoy the simple service of prayer, music, scripture, and teaching!
Traditional Service (10:50am in the Sanctuary):
This service follows the time-honored Wesleyan order of United Methodist worship. Experience the traditional choral and organ music, hymns, and relevant scripture-based messages.
"The Light" Contemporary Service (6:00pm in the Family Ministry Center):
1st Sunday of each month is Potluck Sunday at 5pm
Email: nevin@fumccommerce.org
Follow us on Twitter: @thelightcommerce
Instagram: @thelightcommerce
Join our Facebook page: The Light – Contemporary Service @ FUMC Commerce
Mid-Month Eucharist Service (5:30pm in the Chapel):
This service is on the 2nd Wednesday of each month and is a quiet, contemplative, liturgical service conducted in the Anglican Tradition in which the Sacrament of Holy Communion is received.
Lenten & Easter Season Services:

Ash Wednesday: February 14
Ash Wednesday Service – A powerful service of repentance, reflection, and imposition of ashes
@ 6:00 pm in the Sanctuary
Palm Sunday: March 25
A Service of Palms
@ 8:45 am in the Chapel
@ 10:50 am in the Sanctuary
Maundy Thursday: March 29
Maundy Thursday worship with Holy Communion
@ 6:30 pm in the Chapel
Good Friday: March 30
A Good Friday Service
at 6:30 pm in the Chapel
Easter Sunday: April 1
@ 6:30 am – Sunrise Service at 6:30am led by FUMC youth
@ 9:45 am – Childrens' Easter Egg Hunt
@ 8:45 am – Worship in the Chapel
@ 10:50 am – Worship in the Sanctuary