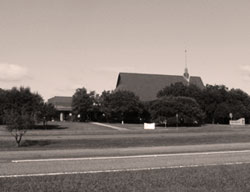 Two Methodist congregations, Lebanon (1.5 miles east) and Mt. Zion (5 miles southeast), served the earliest settlers of the Commerce area. As the community grew, local Methodists began worshiping in a schoolhouse on Pecan Street. In 1881, four years before Commerce was incorporated, they were joined in a Union Church by the Lebanon Fellowship. The Union Church served as home for the Methodist Episcopal Church, South, for about ten years as Methodists worshiped with other groups in Commerce. Then in 1889, the North Texas Conference of the Methodist Church sent the Rev. Mr. A.W. Gibson to Commerce to build a church. In 1892, a Methodist church was dedicated on land given by Dr. W.B. DeJernett on a lot adjacent to his home on Church Street. The church was built under the leadership of the Rev. Mr. A.W. Gibson.
At this time, Commerce was growing due to the arrival of the Cotton Belt Railroad in 1887 and the 1894 relocation of W.L. Mayo's college from Cooper. As Methodist membership grew in Commerce, a building fund was started for a new church in the downtown area. Work began on the church building in 1907 during the pastorship of the Rev. Mr. David H. Aston, and a parsonage was built on Park Street just south of the main building. In 1932, a three-story education building was completed. This site would be the home of Commerce Methodists until 1967.
Directly across from the main entrance of Texas A&M University-Commerce stands the current facility completed in 1967 during the appointment of the Rev. Mr. James Garrett. It was here that the new name of United Methodist Church appeared in 1968 with the merger of the Methodist and the United Brethren churches. A chapel and new education wing were added in the 1980s. In 2006, a building campaign was successfully completed to add the Family Ministries Center to the existing structuring during the pastorship of Rev. Lisa Greenwood.
No matter the setting, the congregation was and is dynamic and active in leading community development.